Tacos Borrachos
Fire up the grill and enjoy this spicy take on carne asada tacos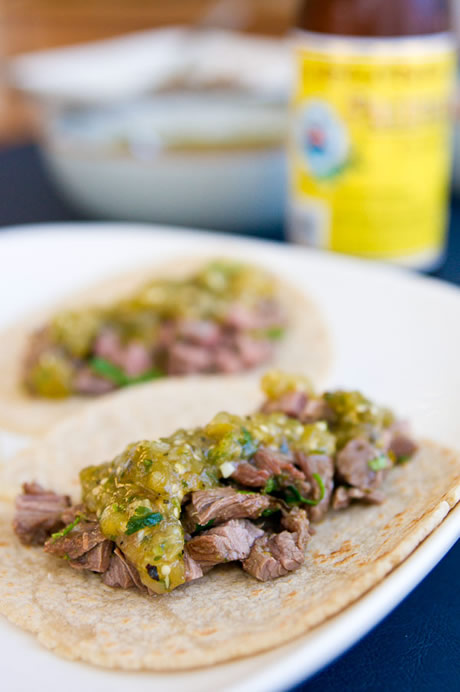 Ingredients:
2 lbs. flank steak (arrachera), cut 1/2" thick
8 flour tortillas
1 12 oz. bottle Mexican lager (Negra Modelo is ideal)
Sea salt or course kosher salt
3 Anaheim chiles
6 jalapeno peppers
2 large tomatoes
4 small key limes
1 garlic head
1 large yellow onion
2 tbsp. Worcestershire sauce
1 tbsp. olive oil
Instructions:
Prepare a marinade using half of the beer, the juice from 2 of the limes, and the Worcestershire. Combine steak and marinade in a zip-lock bag and place in fridge for at least 30 minutes, but no longer than 2 hours.
Roast the peppers, onion, garlic and tomatoes on the grill, turning frequently, until skin is black and blistered (onion will get soft). Remove from heat and place peppers in a paper bag and allow to cool. Once cool, peel the charred skin from the peppers, garlic and tomatoes.
Coursely chop peppers, onion, garlic and tomatoes and combine in a food processor and pulse until ingredients are finely chopped and incorporated. Add half of the remaining beer, and juice from the two remaining limes, to the salsa. Season salsa with sea salt to taste. For a milder salsa, remove seeds from peppers.
Wipe down the grilling surface with a paper towel moistened with the olive oil. Remove the steaks from the marinade and place them over medium-high heat on the grill. Apply a generous amount of sea salt to the face up side of the steak. Gently pour half of the remaining beer over the steaks.
When juices start to pool on the steaks, after about 4 minutes, flip. Again, apply sea salt and beer to the face up side of the steaks. Cook steaks to medium rare or medium at most. Remove steaks from heat and allow to rest. While steaks are resting, warm tortillas on the grill. Cut steak into strips, cutting against the grain. Serve steaks and salsa on tortillas and enjoy.
Recipe notes:
It is important to purchase the steaks cut to 1/2" thickness. Normally, skirt steak is sold cut very thin. Thin cut steaks cook too quickly and can get tough. By using a simple marinade and only sea salt for seasoning, the flavor of the steak really comes through.
Negra Modelo is selected for this recipe because of the higher malt content. It is important to not use a beer that is overly bitter or acidic. The sugars from the beer caramelize well on the steaks and add a nice sweetness. The beer also cuts some of the heat in the salsa.