Server training
Selling good beer for fun and profit!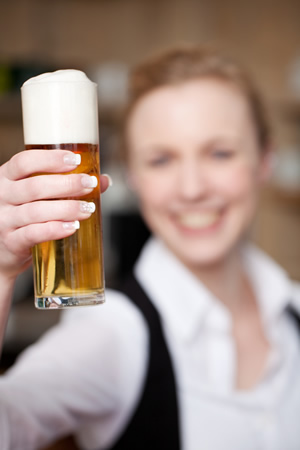 Most everybody knows by now that a well-planned beer list can add quite a bit to the bottom line. Many restaurants, neighborhood bars, clubs and lounges are investing in carrying a wide range of quality beers. As an owner of such an establishment, are you sure your servers are ready?
Far too often, a beer list designed with the best of intentions can fail completely if the staff doesn't know how to sell it. With the variety of beers available today, asking a customer if they like "light" or "dark" beers is not good enough. Your servers need to go a step further.
Our server training program will show your staff how to maximize your beer list, satisfy your customers, and increase their tips; all keys to long-term success. We cover beer styles, common commercial examples, key flavors, and beer & food pairing concepts. At the end of the program, your servers will be prepared to pass the Certified Beer Server exam, the first level of the Cicerone™ program.
Email us at info@toursontap.com for more information.